The Decade of Deckshield
17 Dec 2019
As we reach the close of the current decade, the team at Flowcrete Australia HQ decided to reflect on our favourite Deckshield projects from the last ten years.
Established in 2003, the Preston and Northcote Community Hospital Health Services facility provides health care for the local community.  The facility contacted Flowcrete to find a rapid curing deck coating solution for their external rooftop car park refurbishment.  Due to the tight construction schedule, there was only 1 week to install a trafficable deck coating to the car park. 
1,500m2 of Deckshield ED Rapide was installed as a fit-for-purpose solution for the rooftop parking space.  The PUMA resin-based solution delivered a trafficable waterproof surface which could be installed under tight time frames and ensure that the construction schedule was maintained.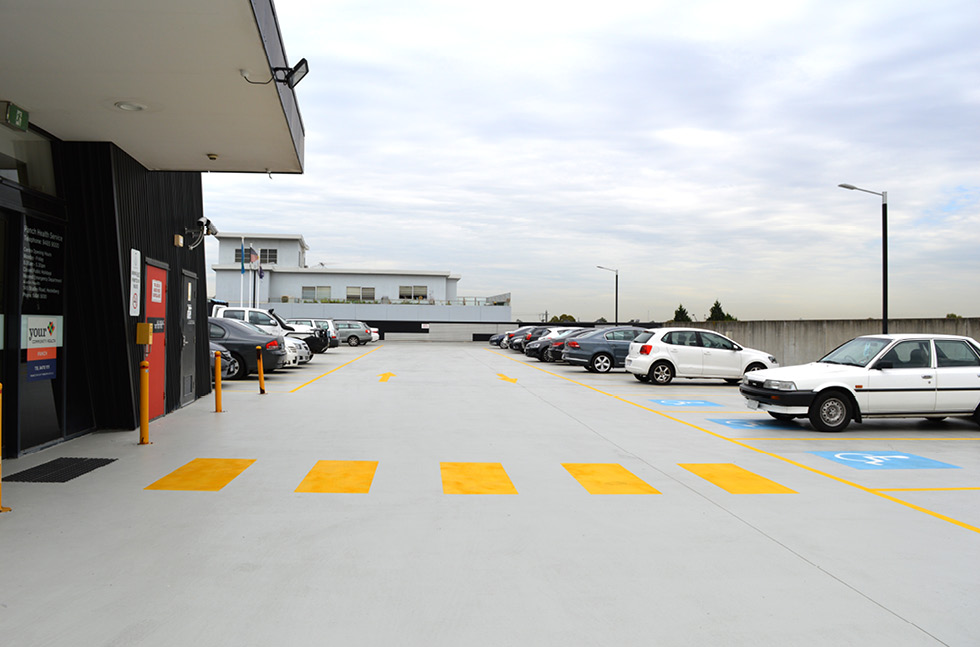 The Star in Darling Harbour wanted to revitalise its parking facility as well as extend the luxurious atmosphere of its Sovereign Room, which is reserved for VIPs. To achieve this, 85,000m2 of Flowcrete Australia's deck coating systems were installed across the five-storey car parking facility. The car park floor had to meet multiple strict criteria, such as not causing dust, being odour-free, easy to clean and glossy.
For the Sovereign Room's exclusive parking zone, 11,500m² of Deckcoat EP and 1,500m² of Deckshield ID was applied in custom colours to craft a stylish and on-brand atmosphere in the by-invitation-only area. The Sovereign logo was also incorporated into the car park coating to enhance the visitor experience.
Further applications of Deckshield systems have occurred since 2016, with the other levels of the car park and ramps now transformed.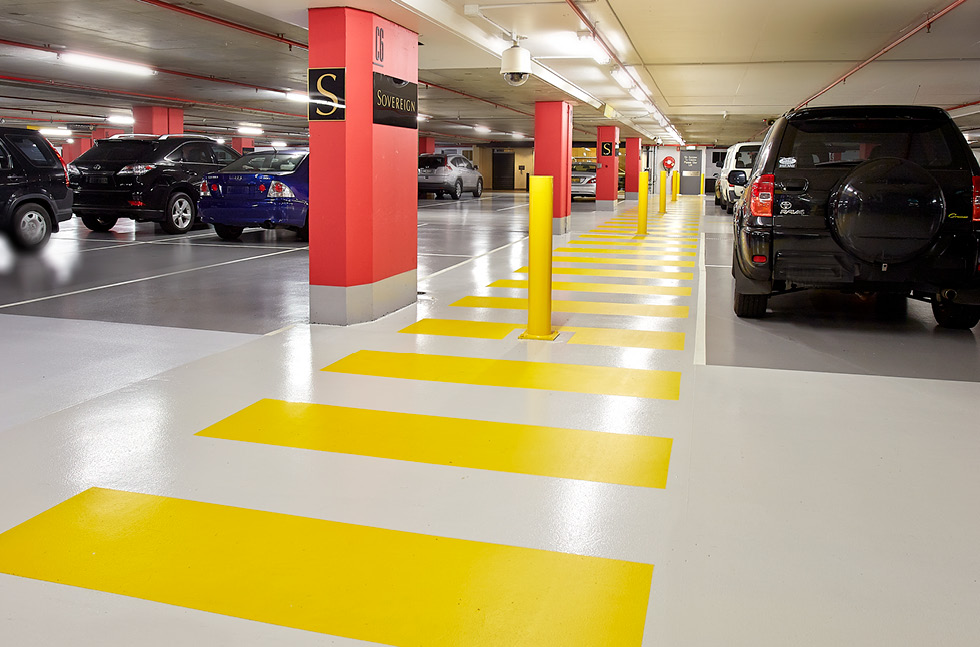 A new apartment complex in Brisbane's West End Precinct, Light+Co, required a hard-wearing and decorative finish for its car park that could incorporate five bespoke colours and be installed in a unique design of intricate circles, lines and intersecting shapes.
To install the flooring materials into Light+Co's desired pattern, the contactor faced the challenge of having to treat them like paint rather than a resin coating. This approach meant that the methyl methacrylate enhanced finishes could be laid down into an interconnecting design of red and brown circles and bright yellow stripes on an alternating background of vivid blue, brown and grey.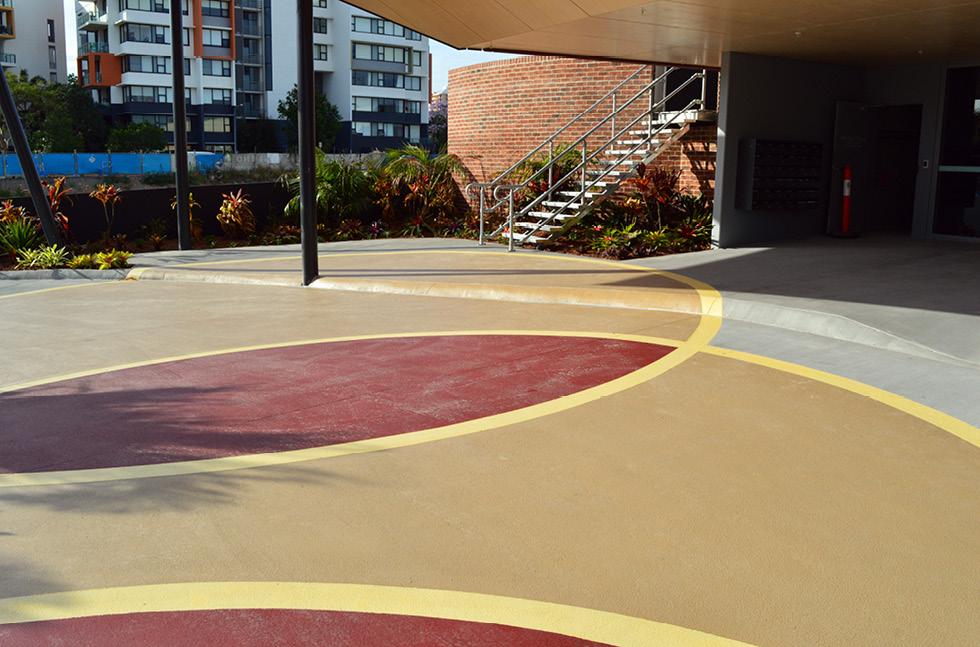 Flowcrete Australia was chosen to provide a flooring solution for Mater Private Hospital's 7500m2 car park, which at the time was due for refurbishment as the existing water-based epoxy coating was discoloured, noisy and slippery in the wet. 
As a critical element to the hospital, the material selection was a top priority for the client. Flowcrete Australia's Deckshield car park solution has over 20 years track record and is the No.1 product in the car park market. This together with local references gave the hospital confidence in choosing Flowcrete's waterproof Deckshield system.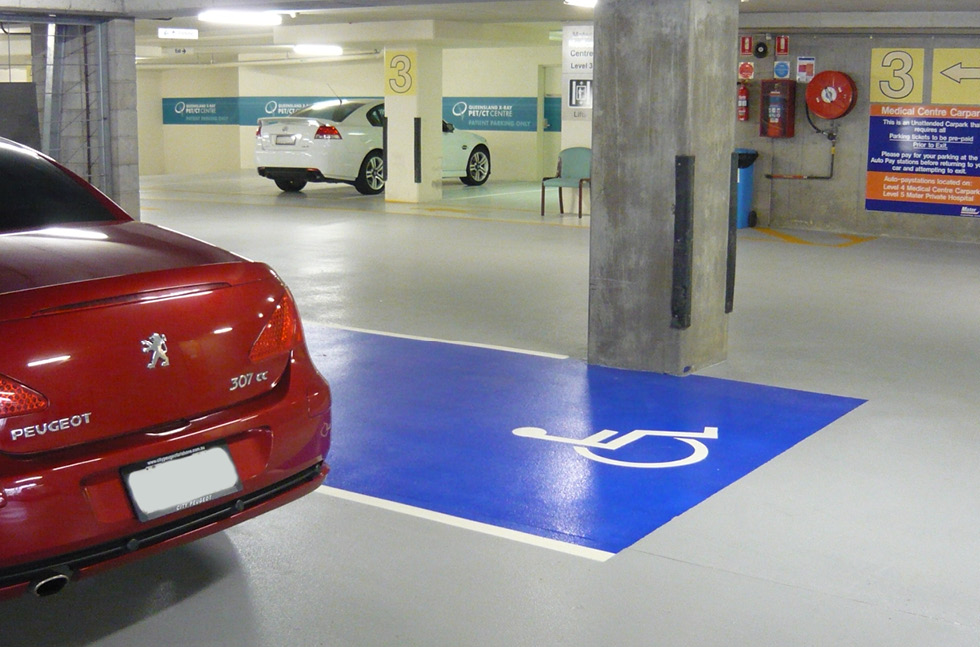 Taking a step outside the car park sector, we had to make a special mention of the 2010 installation of Deckshield at Eden Park Stadium.  Resin flooring and car park deck coating specialist, Flowcrete Australia, was selected to provide a range of protective resin flooring systems across various zones of the new South Stand at Eden Park, which had been designed to increase crowd capacity by a further 60,000.
The iconic building's redevelopment saw the historic South Stand replaced in its entirety plus an extension of the East Stand, along with a range of other upgrades designed to enhance the experience of the viewing public. For the external seating areas and bleachers, Flowcrete Australia's watertight and UV stable deck-coating range Deckshield was selected to transform and protect the iconic stadium.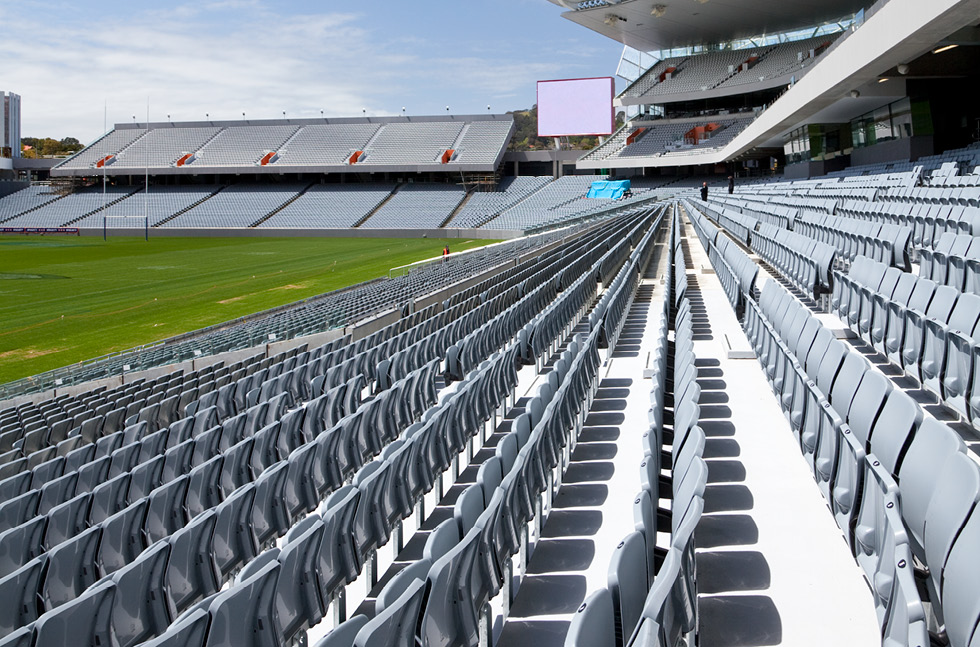 If you want to transform and protect with Deckshield in 2020, contact our team.
ENDS
Enjoy this post? Click below to share it with your network:
Press Contact
For Flowcrete Australia's contact details please visit www.flowcreteaustralia.com.au/contact-us/ and touch base with the Marketing Team.
Notes to Editors
Flowcrete supplies world-class seamless flooring solutions to transform environments across the globe including; decorative seamless resins, waterproof car park deck coating systems, seamless resin terrazzo, durable antimicrobial flooring, fast curing systems, corrosion protection and swimming pool surrounds.
Flowcrete's ambitious and dedicated team, is inspired by excellence in people, products and service, as well as continual innovation and sustainable growth. Flowcrete continues to use its global expertise to introduce environmentally friendly, hygienic and aesthetically attractive floors to create a better and more sustainable world.
For further information please contact [email protected].
Or visit us on the web at www.flowcreteaustralia.com.au.